With the recent removal of the MEWconnect app from AppStore and GooglePlay, and the announcement of MEWconnect protocol integrations by Ren, Aave, and Loopring to be used with MEW wallet app, it's understandable if our users might be unclear on the distinction between MEW's mobile apps.
Not only that, but – how is using Aave on the DApps page in MEW web different from accessing Aave via MEWconnect from MEW wallet app? Or, if you are using MEW for the first time, do you need to use both MEW web and MEW wallet app? What about MEW CX?
We are dedicated to giving our users lots of choices for wallet and DApp access, but we don't want to confuse anyone! So, let's take a quick look at the MEW ecosystem, how our tools can work together, and which options are more relevant for you.
MEW web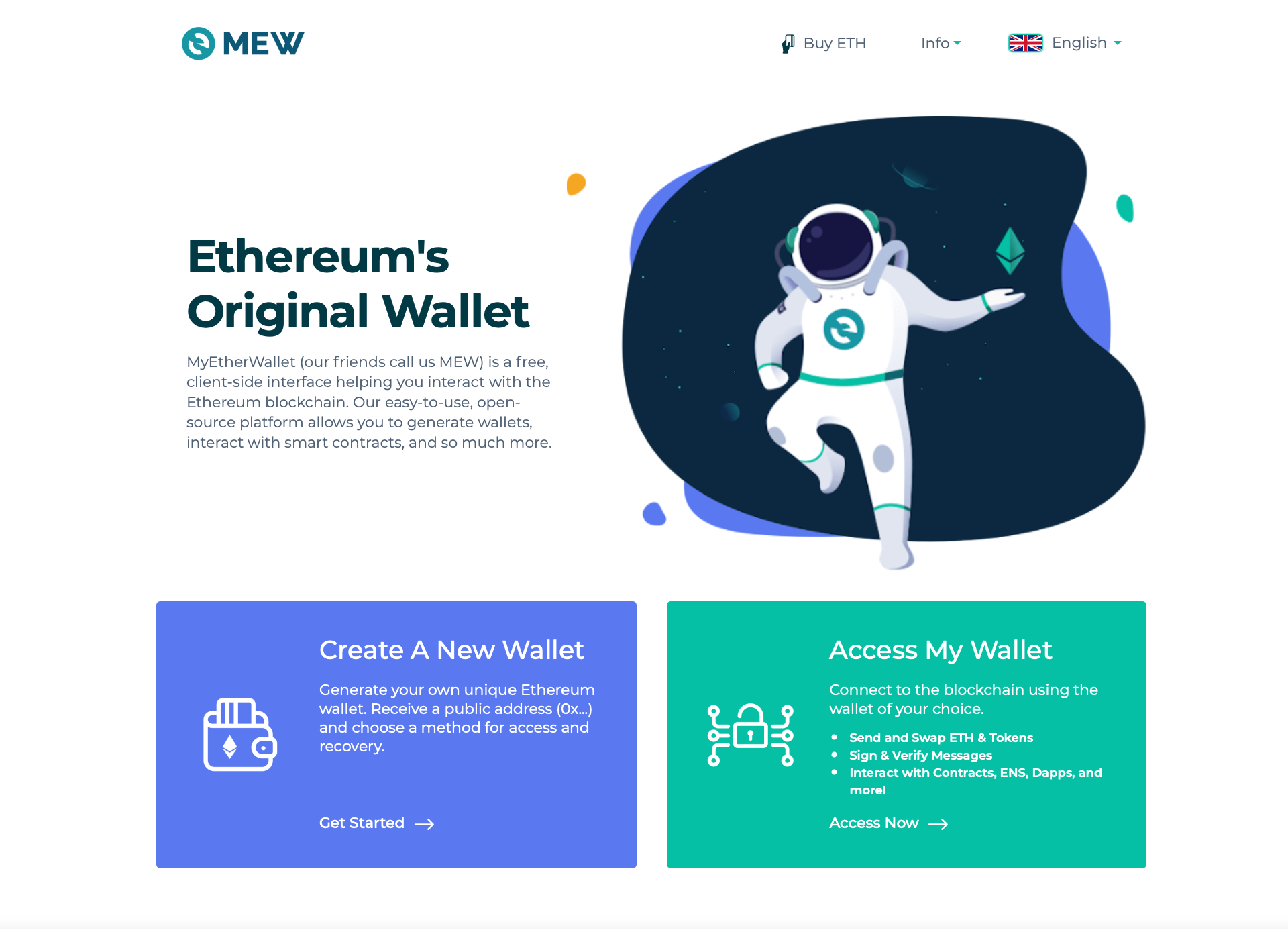 This is the original MyEtherWallet website, created less than two weeks after the launch of the Ethereum blockchain itself. Originally, the purpose was simple — to make Ethereum access possible for users without any coding background.
Since then MEW web has evolved significantly, now offering 19 methods of wallet access, ETH purchase with credit card, token swaps, decentralized domain registration and management, contract interaction, DeFi tools like Aave and Maker, and more. Basically, if it can be done on Ethereum, it can be done with MEW web.
The web interface helps extend the capabilities of any Ethereum wallet when interacting with the blockchain. Use your hardware wallet, a Web3 wallet like MetaMask, or a mobile app like Trust Wallet or Coinbase Wallet to connect to MEW web and take advantage of the full functionality of Ethereum. You can also create a brand new wallet with MEW — we recommend doing that using the MEW wallet app.
MEW wallet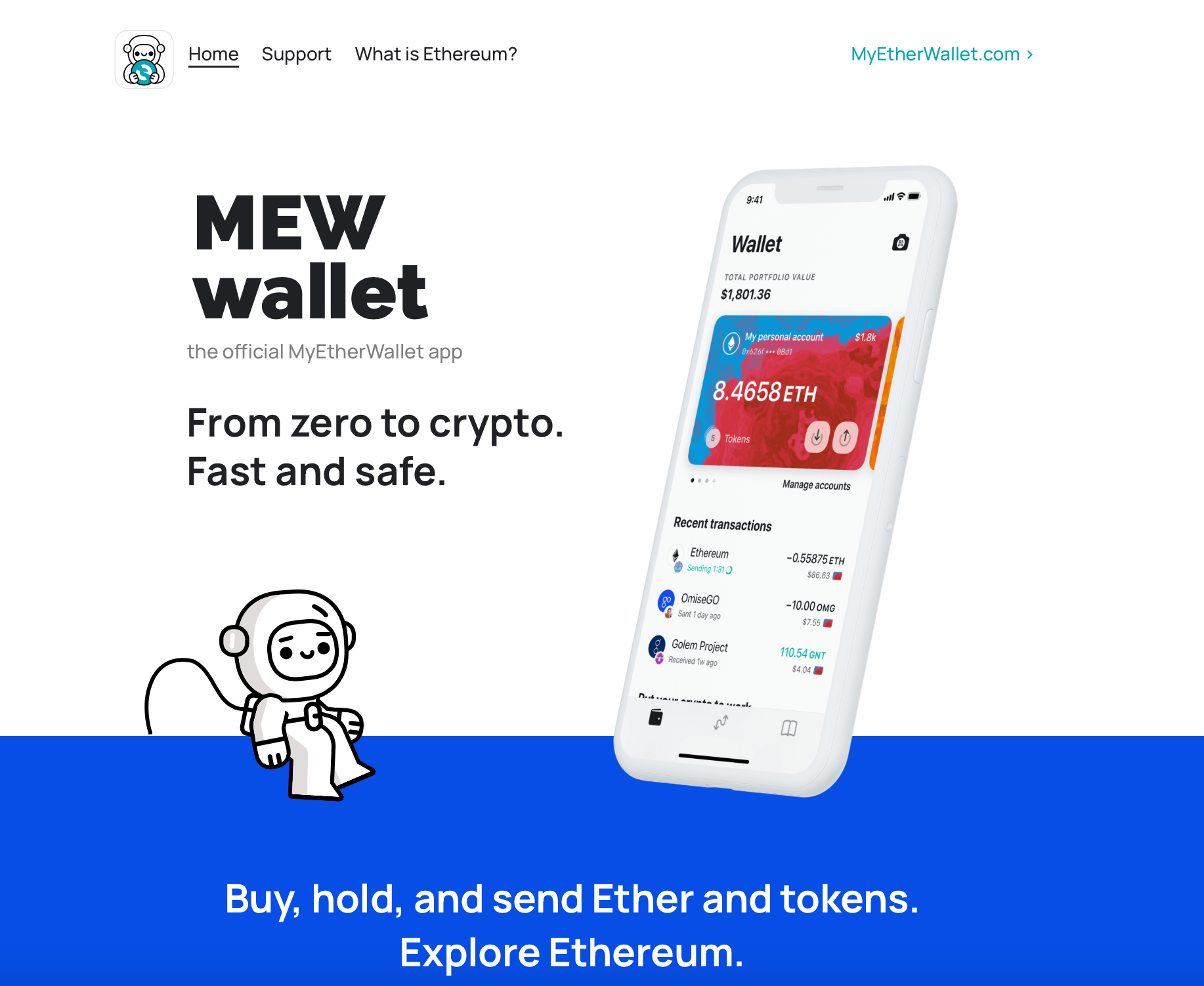 MEW wallet is our mobile solution which can be used both as a fully-fledged Ethereum wallet on its own, and by connecting to MEW web for even more possibilities. Your keys are securely generated and stored on the mobile device, and the wallet is truly noncustodial, meaning you have full and exclusive control over your assets with your recovery phrase.
The world is moving overwhelmingly to mobile devices for digital interaction. We are aware that for many users, the smartphone is not just the primary, but the only means of internet access. That's why MEW wallet app lets you buy and hold ETH, manage all ERC20 tokens, and swap ETH for tokens — all right from your phone.
However, mobile apps must adhere to the regulations of markets like AppStore and GooglePlay, which may or may not allow the support of decentralized apps. To give our users more flexibility, there are two ways to use DApps with your MEW wallet – by connecting to MEW web (as discussed above), or connecting directly to web-based DApps via the MEWconnect protocol.
MEWconnect protocol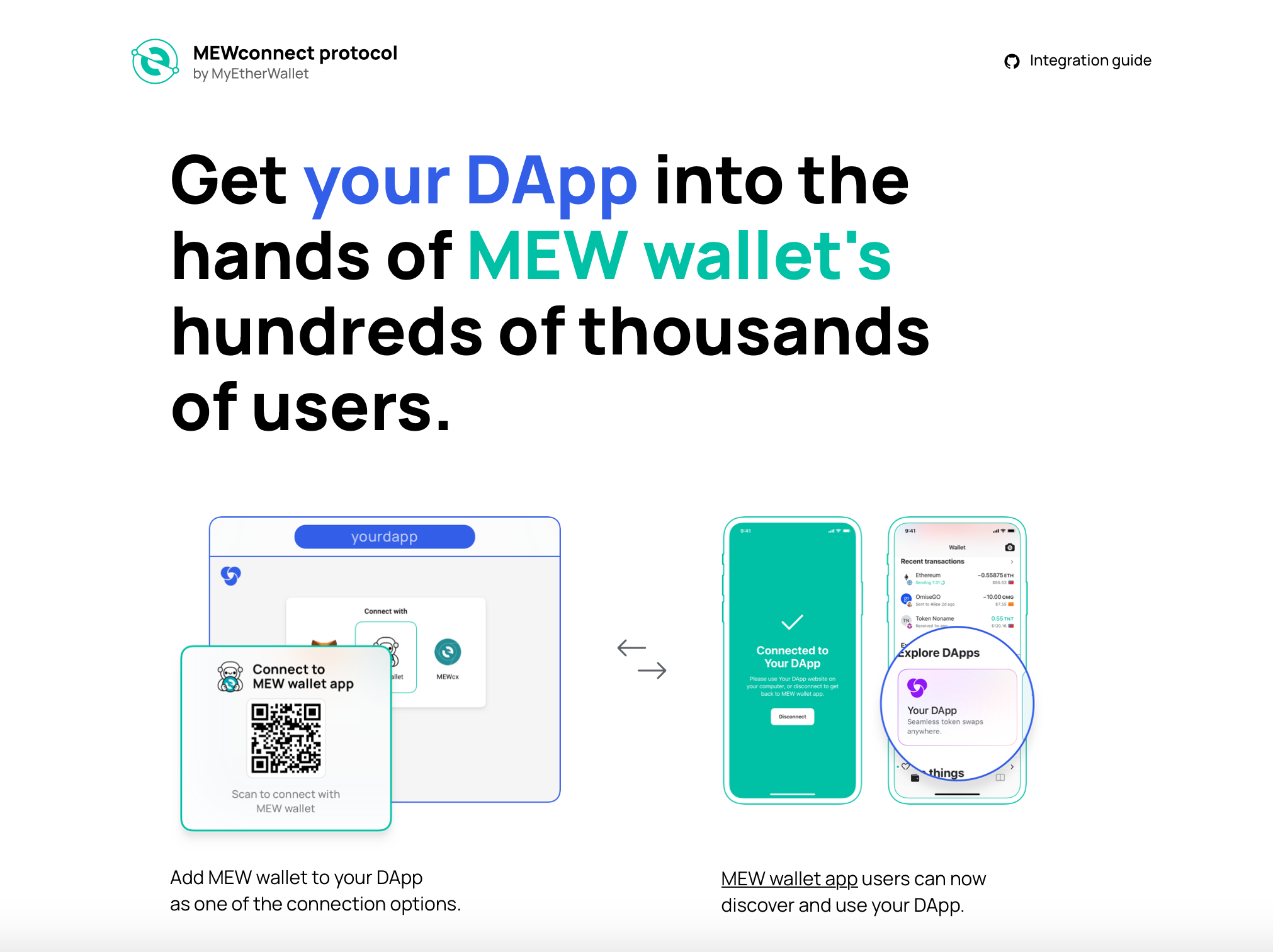 MEW wallet is the second mobile app created by MEW. The first one, MEWconnect, was a signing app rather than a full-fledged wallet. Most importantly, the app was the first implementation of the MEWconnect protocol, developed to create a secure connection between MEW mobile and MEW web.
Now, MEW wallet has replaced the MEWconnect app as MEW's mobile solution, retaining all of the previous security features and adding much more functionality. Migration is free and easy for MEWconnect app users — just follow our Help Center guide.
And what happens to MEWconnect now? The MEWconnect protocol ventures beyond the confines of MEW web, to be integrated by web-based DApps into their interfaces (Ren and Aave are the first to have done so). As more DApps adopt the protocol, MEW wallet app users will have a wide selection of DeFi instruments, games, and other decentralized services to interact with, through an already familiar connection process.
MEW CX browser extension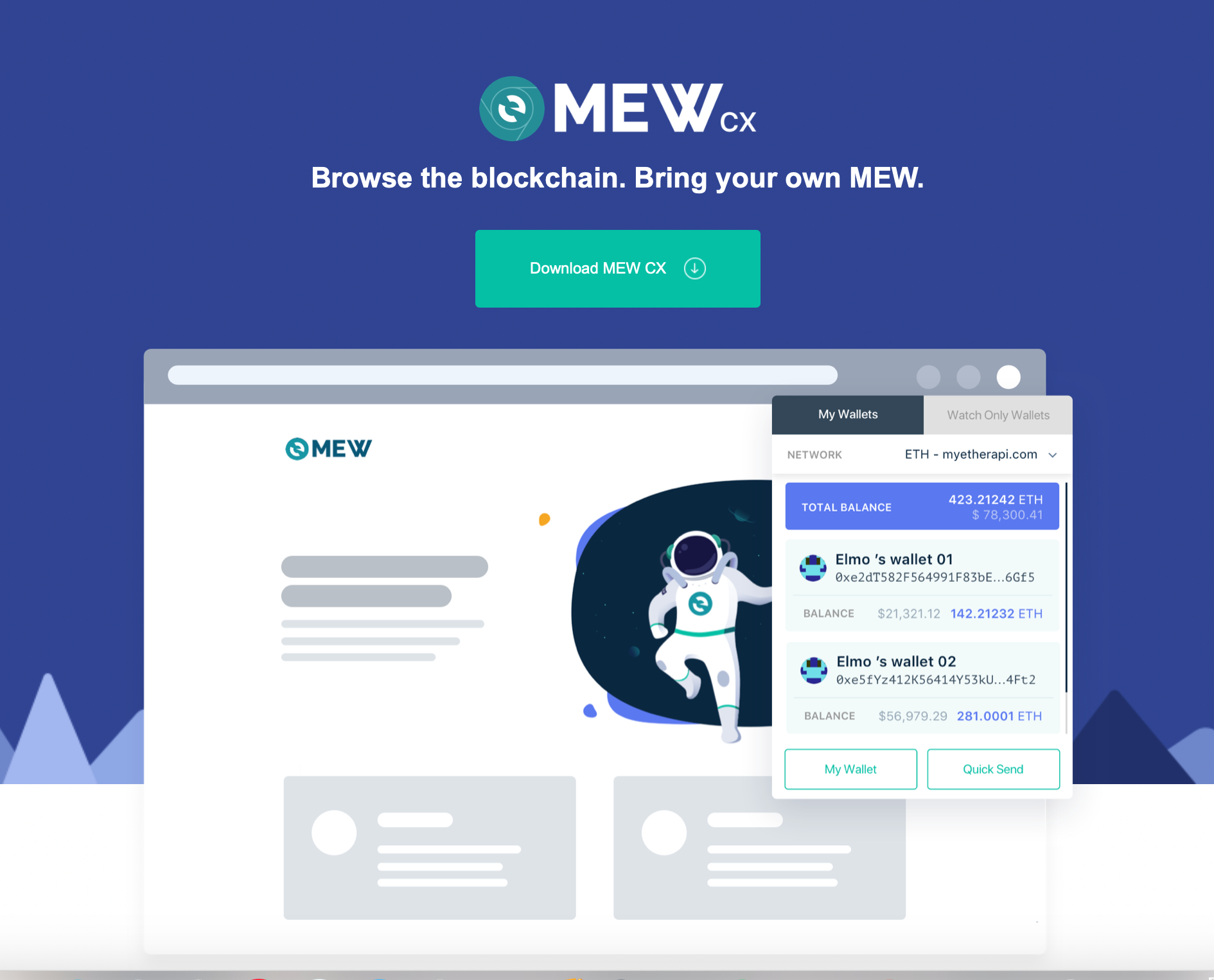 While mobile connection protocols like MEWconnect are quickly taking over the decentralized web, there is another well-established way to explore Web3 – browser extension wallets. Having an Ethereum wallet on the toolbar allows for quick and easy interaction with web-based DApps.
MEW CX is MEW's browser extension. If you are still using a software method of access like keystore file, private key, or mnemonic phrase, adding your wallet to MEW CX is a more secure way of using those methods than entering your keys into an online interface every time. You can also create a new wallet with MEW CX and start browsing DApps right away, with the option of using a burn address to explore a DApp before you are ready to commit with your assets.
MEWtopia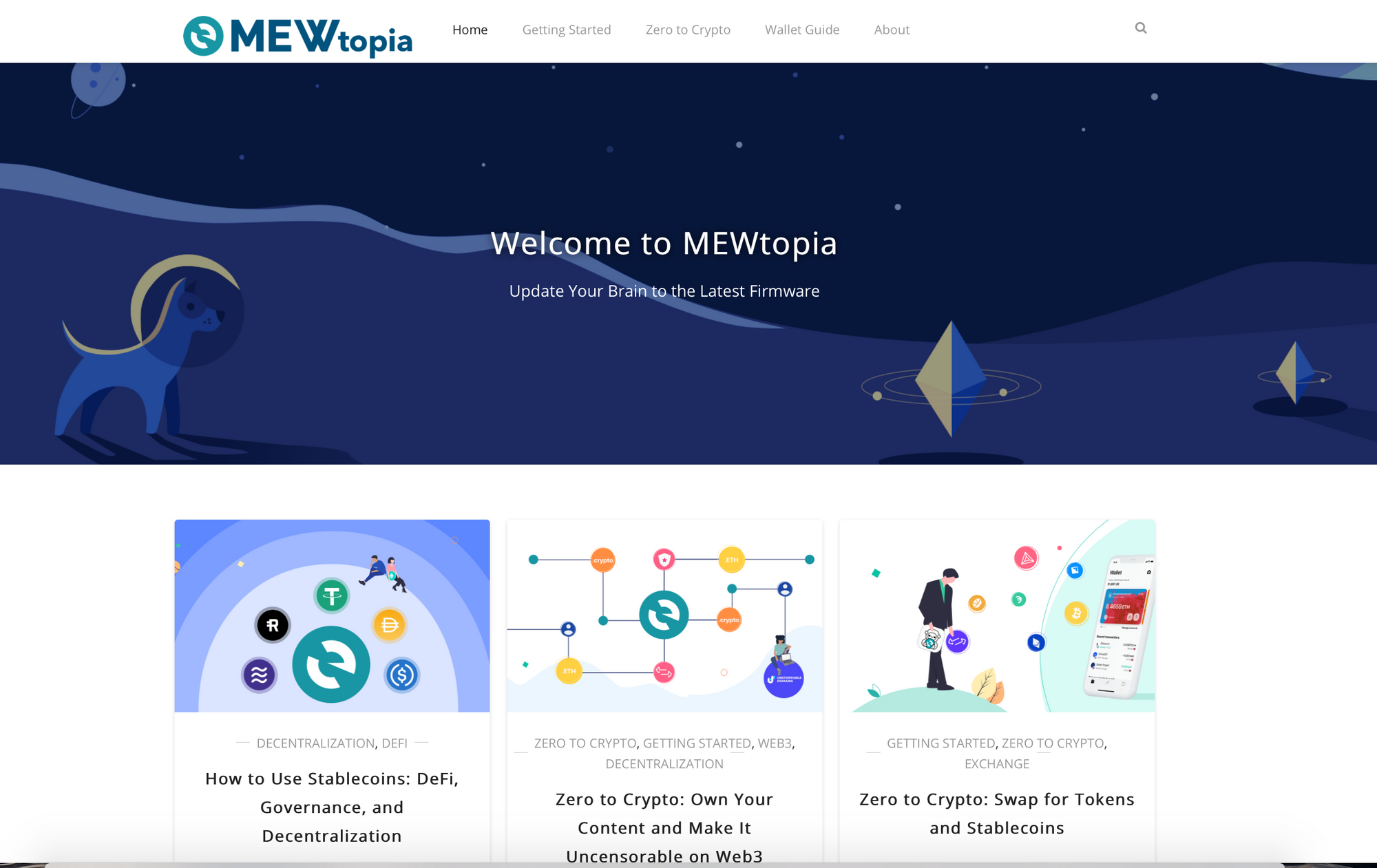 Even though it's not one of our wallet solutions, MEWtopia is very much a part of the MEW ecosystem, supporting our efforts to give users all the information they need to feel comfortable with crypto. From our Absolute Beginner Intro to Ethereum, to more granular questions about pending transactions and wallet generation, the articles are here to help you with your crypto journey, whether you are just beginning or ready for more advanced Ethereum applications.
In addition to MEWtopia, do take a look at our Help Center, and if you still have questions, don't hesitate to contact support@myetherwallet.com!