OK, you've decided – you're going crypto.
Maybe it was an especially thought-provoking article, or a friend checking crypto prices on their phone all through dinner, or someone you admire making a reference to their crypto portfolio – but something tipped you over, and here you are.
So, what's next? Well, to get into crypto, you just need to get some crypto. We think that ETH – the cryptocurrency of the Ethereum blockchain – is a great place to start. Why? Because it opens the door to a lot of the things that make cryptocurrency special and so different from all other assets.
Do you want…
Тоkens, issued by thousands of promising projects and platforms? –> Get ETH
A savings vault with interest returns in double digits? –> Get ETH
A 10-minute loan without any paperwork? –> Get ETH
Unique items and property in the hottest blockchain games? –> Get ETH
The glory of knowing all about how blockchains and smart contracts work? –> Begin by getting ETH
There is a number of ways to obtain your first crypto, but a really easy way to buy ETH is with the MEW wallet app. Ready to try it? Here we go.
(You can also buy ETH via MEW web interface, if you choose.)
Step 1: Download the MEW wallet app on your iOS or Android phone.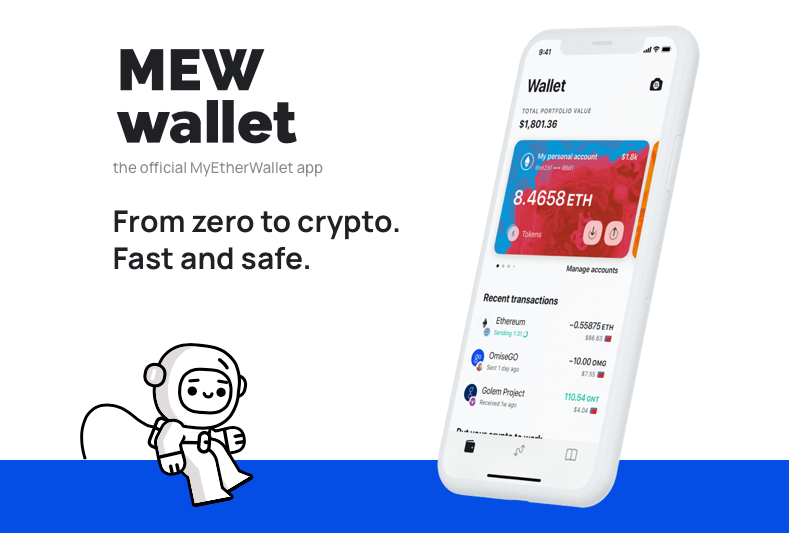 Step 2a: Click 'Create a free wallet'.
You'll be taken through the safety tips, creating a PIN, and enabling biometric authentication. Then, you'll arrive at your wallet home screen, featuring your first unique marbled card and our friendly astronaut Peggy.
Step 2b: Back up your wallet.
This is very, very, super important. It's a simple step that some people skip and later regret, but you are smarter, so you won't.
You know how they say 'not your keys, not your crypto'? (If you don't know, this is, in fact, what they say). When you back up your wallet, you are getting those essential keys and they come in the form of a 24-word phrase.
Select 'Back Up Now' and write down your recovery phrase. You must keep it safe, written down on paper, in a secure location (not in cloud storage, not in an email, not in a Google Doc). Never use it on the internet, and never give it to anyone else. This phrase ensures that you will always have access to your wallet, no matter what.
Step 3: Click 'Buy Ether'.
Select amount, and choose to buy with Apple Pay, or with a card via Wyre or Simplex (depending on your location). How much ETH you're getting will depend on current ETH price, and fees will be included in your rate.
If you are in the United States, on an iPhone, and have ApplePay enabled, the purchase will take you a few seconds – literally. Without ApplePay, you can purchase with a card via Wyre or Simplex, and you will need to fill out your information before completing the purchase (so, in this case it'll take you a few minutes).
Once your purchase is processed, you will see your ETH balance on your account card and a new entry in the 'Recent transactions' history below.
Step 4: You are done. You are now officially in crypto.
Now what? Pat yourself on the back and stay tuned for our next article about getting yourself some tokens and other cryptocurrencies.
If you are the studious and proactive 'A' type,
for extra credit:
Read our very comprehensive Beginner's Guide to Ethereum, for a preview of fun things to come and more safety tips
Join MEW community on social media – pick your favorite, you can find us pretty much anywhere (see list of official media links in the footer)
Figure out who Peggy is named for (hint: a prominent computer scientist who made a significant contribution to space travel)